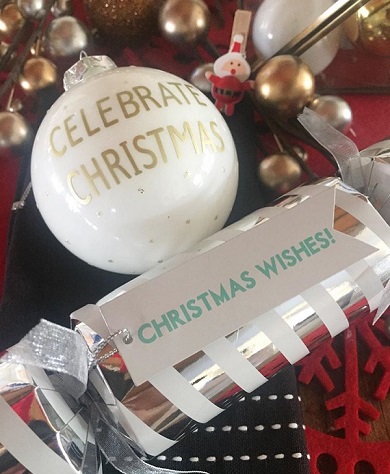 It only feels like yesterday that we were packing up last year's decorations and yet Christmas 2017 is already creeping up on us. As much as we all love Christmas, the season brings quite a bit of stress for those of us hosting. At Sweets for Tilly we understand this pressure. We've put together some of our best tricks on how you can plan the perfect Christmas dinner.
Create a festival table – What is Christmas without decorations to create a happy and festive mood? Remember to keep it nice and simple, no reason to go outrageous on the attire to make your table look stunning. A definitive must-have is a colourful runner. Sprinkle some beads or small tinsels to brighten the setting and go creative with them on your drinks and cups to add a little extra charm. If you are thinking about wired trees or candles, do it. But think subtle and small to leave some space on the table. Finish off with a festive wreath on entry of the house for a warm welcome. 
Be prepared – Figure out who you are catering for and it will be easy to set your plan. How many people are you hosting? Are there any vegetarians or kids? For the early birds, shopping goods in time is a great idea. You can buy biscuits, chips and finger food with a long expiration date a few weeks ahead and fruit and vegetables about 2-3 days before, which is perfect to keep them fresh. You will want to buy fish or meat only the day before and although it might seem like a hassle to head out to the shops, you definitely want to serve quality food on the big day.
Start if off light – Stick with some simple platters for finger food and nibbles. After all, you want to avoid your guests gorging themselves before your main course has even made its way to the table. You can never go wrong with a traditional cheese platter and for the people that need something more filling -men- you can bring in some small bites such as meat balls, sushi rolls and mini sandwiches. As for the little ones, you need to occupy without stuffing them. Light snacks such as fruits and nut mixes will do the trick.
The big meal – This is your time to go all out. Christmas wouldn't be Christmas without a killer roast. Depending on your level of enthusiasm and cooking skills, you can easily pick up oven-ready roasts of lamb, chicken and pork or even go with a pre-made roast catered by your supermarket. Mix it up with some nice and fresh salads made by yourself or customize a good standard Greek or Caesar salad by adding things like prawns, beans, pasta or vegetables. Vegetables definitely need some herbs when you roast them, this will give them an exotic edge and it will make them extremely tasty.
The sweet tooths – Swap your traditional Christmas mince pie for a delicious ice cream cake or gingerbread man and your friends will love you for it. Making your own ice cream at home is peanuts and the good things is that you can make it as sweet or as simple as you wish. Sauces, lollies or other toppings, you can go absolutely go wild. Definitely go for the gingerbread man or a delicious brownie and the kids will love to get involved in baking these.