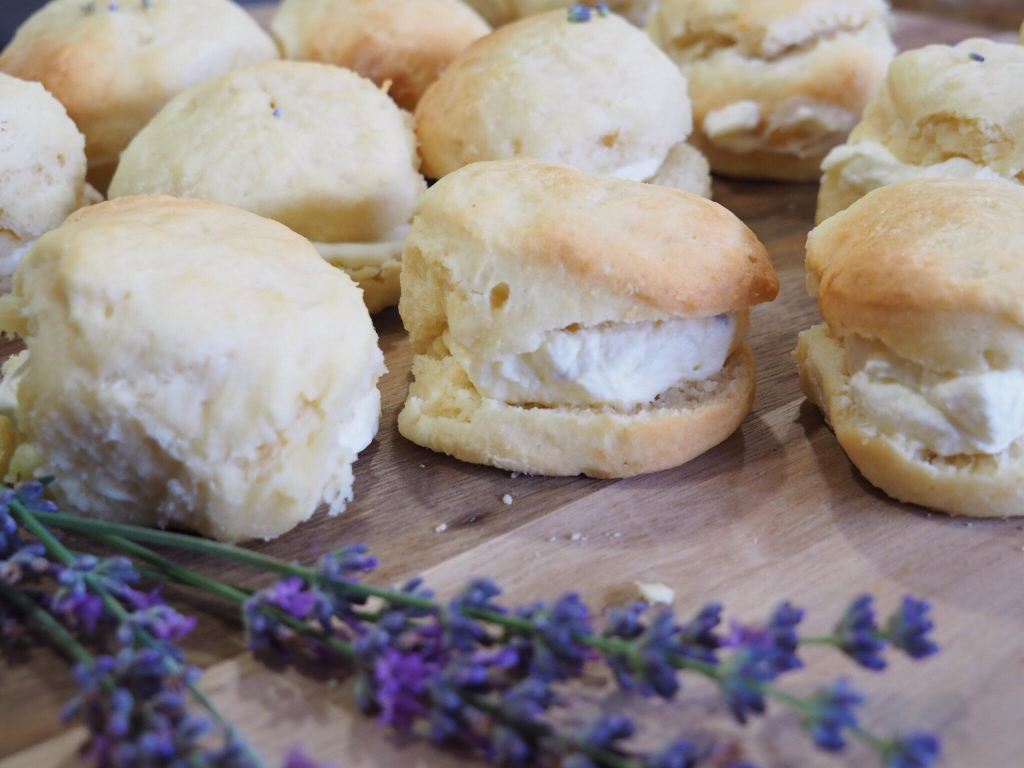 Who doesn't love scones and what better way to feed your craving than with scones with a twist.
You will need:
3 cups of self raising flour (sifted) 
1 cup of cream 
1 cup lemonade 
1 tablespoon of milk

To serve: 
1 cup of thickened cream

Two types of flavours: 
Edible lavender – you will need about 1/2 tablespoon. Lavender is found in specialty food shops. 
Rosewater essence – found in specialty food shops of even sometimes found in the baking section in the supermarket 

Steps: 
Preheat your oven to 220c. 
Lightly grease a baking tray. 
Put the flour, cream and lemonade in a bowl. 
Stir until just combined. 
Place dough on a lightly floured bench. 
Knead lightly until combined. 
Flatten the dough to the height of your round cutter. 
Cut out the dough using a round cookie cutter to any size you like.
Place them close together on a baking tray, brush with a small amount of milk. 
Bake for 10-15 minutes until they are light brown. 
While the scones are baking make your cream topping. 

Lavender cream: 
Whip the thickened cream until it is nice and fluffy using an electric beater. 
Once the cream is beaten, add the edible lavender and gently fold into the cream. We suggest adding 1/2 teaspoon at a time as the lavender can be strong.  Add the lavender until you are happy with the strength of it in the cream. 

Rosewater cream:
Same as lavender cream except add rosewater essences 1/2 teaspoon at a time to the beaten cream.  
Serve the cream with the warm scones straight from the oven.
Option with serving – feel free to add a small dollop of jam on the scones before adding the cream. Just don't add too much as the lavender and rosewater cream can be quite strong on its own.