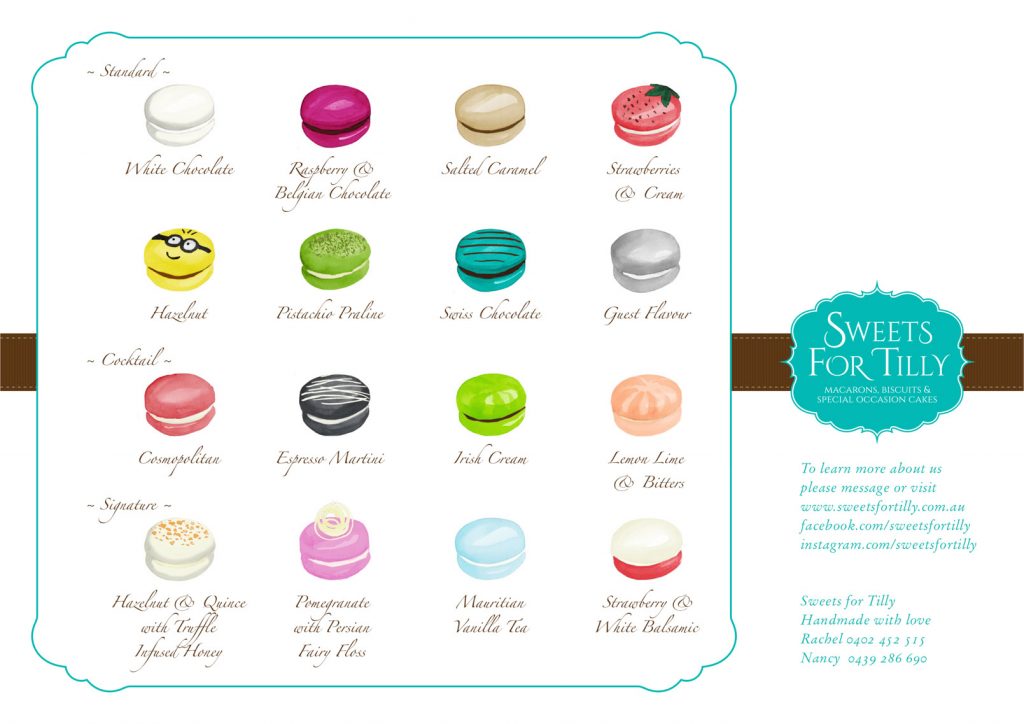 SIGNATURE FLAVOURS MACARONS
Mauritian Vanilla Tea – A blue shell, filled with white chocolate infused Mauritian vanilla tea
Berry Burst – A cherry coloured shell, filled with dark chocolate and raspberry or strawberry jam
Salted Caramel – A light brown shell, filled with caramel and a touch of salt
Swiss Chocolate – A green shell drizzled with swiss chocolate, filled with quality swiss ganache
COCKTAIL FLAVOUR MACARONS
Cosmopolitan – A pink shell, filled with a cranberry and vodka infused buttercream
Espresso martini – A black shell, drizzled with white chocolate, filled with an espresso martini buttercream
Irish Cream – A green and white shell, filled with dark chocolate blended with amazing Irish cream liqueur
Handmade and baked with love.
Contact us and find out how we can create some amazing sweets and treats for your next special occasion.
CONTACT US
Orders are taken by emailing
or by contacting
Nancy on 0439 286 690
We will ask some questions to provide you with a quote for the items you would like to order.