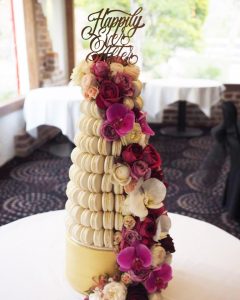 Your wedding is one of the most exciting and memorable days of your life. But the planning and preparation that goes in to making every moment magical can leave both bride and groom-to-be overwhelmed and wanting the day to be over before it's even begun.
Thankfully, there is one ingredient in the wedding recipe that is guaranteed to be a treat – and that's loosening the belt, and taste testing the cake.
While trying different variants of mud, red velvet and white chocolate cake samples sounds like the dream, there is a lot to consider when making the right choice for your wedding.
From the right size, flavour and even design – dessert experts at Sweets for Tilly have cut through the fondant, and created some tips on how to choose the perfect cake for your big day.
1.      Get inspired – Some couples have had their perfect wedding cake picked out well before they were even engaged, but for others – the style and design is quite low on the priority list. Using social media tools like Pinterest and Instagram for inspiration will be your best friend when it comes to creating your dream cake.
2.      Know your budget – You'd be surprised to know how much a cake will set you back – especially when you add the label 'wedding' to your enquiry. A cake for any occasion takes a lot of time, talent and care to create. For this reason, it's important that the price of a cake is taken into consideration during the budgeting process. Your cake supplier should be able to come up with a design you are happy with and in a price range that suits you.
 
3.      Book in advance – Wedding cakes can take a long time to make, bake and create. Suppliers can also be booked almost a year in advance, so start tasting and making decisions 6-12 months ahead of your big day.
4.      The cake is a focus point. Your wedding cake is something that stands on display at your reception. It's something that will 'wow' your guests – and also cure their sugar cravings at the end of the night. There is also so much attention placed on the cake at 'cake cutting time'. Think about how it should tie in with the rest of your theme. You want it to leave a lasting impression and look great in your professional photography. Make sure your cake supplier understands your vision completely. Choose a supplier with lots of experience and passion.
5.      Know your numbers – One of the main priorities when organising your cake is how many guests will need to be served. This will be one of the first questions asked by the supplier, so make sure your list is accurate. If you are dreaming of a 3-tiered masterpiece, but only have a small reception planned – some cake suppliers can include a dummy tier for decoration. Not only will this save you money, but eliminate wastage too.
6.      Loosen your belt, it's time to taste – Now you've done the hard yards, it's time for the best part. Tasting different flavours is definitely a treat, but not every bride and groom will have time to travel from supplier to supplier.