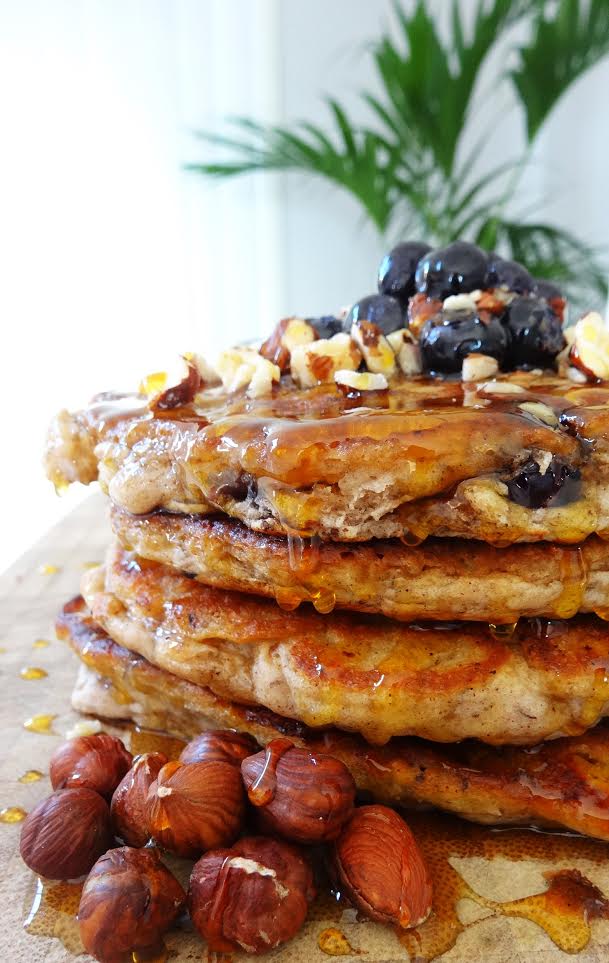 As breakfast is the most important meal of the day, start your Sunday off  the right way with these delicious Blueberry & Hazelnut pancakes.
The recipe is also FULL of natural sugars so a little more healthy than the average pancake and this recipe makes up to 10 pancakes.
Ingredients
–          200 grams self-raising flour – sifted
–          1tsp baking powder
–          A pinch of salt
–          1 egg
–          300 ml of milk
–          1 tablespoon ground cinnamon
–          90 grams of finely chopped hazelnuts (or whiz in a food processor for it to be finely chopped)
–          150 grams frozen blueberries
–          A small knob of butter for cooking
Method
Mix the dry ingredients and the nuts in a large bowl.
Beat the egg with the milk and then make a well in the centre of the dry ingredients. Whisk the milk into the dry ingredients until you have a thick batter.
Gently stir in half the blueberries into the batter mix.
Put a large non-stick frying pan on a low-medium heat and add a small knob of butter until it melts.
Ladle the batter into the pan, cook for 2-3 minutes until there are bubbles forming on the surface of each pancake.
Turn the pancake and cook for another 2-3 minutes until golden.
Keep the pancakes warm in a low temp oven, while you cook the rest of the batter.
7. Serve with yoghurt and the remainder of the blueberries. Or for a special treat top with golden syrup with the blueberries.
Enjoy! This is a great recipe for all ages!
About Sweets For Tilly
Sweets For Tilly is a family run business by Jacqueline and her two daughters, Nancy and Rachel. Starting a baking business has been a lifelong dream for the three ladies, and as a family with the gift of baking and flare for and creativity, Sweets for Tilly was born.
The name of the business was inspired in honor of their late Grandma, Mathilde, which is the French version of the name Matilda, which can also be known as Tilly.
Many may know that the art of baking macarons can be very tricky to say the least. The three ladies began their obsession for perfecting the art of macarons several years ago. Their signature flavours include, salted caramel, berry burst (chocolate with a berry surprise, and a very special Mauritian vanilla tea flavour. The Mauritian vanilla tea flavour pays homage to their island heritage, with Jacqueline moving here with her husband many years ago to start a family and settle in Australia. More than 40 years later, both Nancy and Rachel have families of their own finally and decided to take the leap and begin a baking business to turn their dream into a reality.
Sweets For Tilly bake macarons, biscuits, sweets and special occasion cakes all handmade and baked with love. The delights we bake cover everything from weddings, birthdays and baby showers.